'When in Rome, do as the Romans do…' In the video below we go on a walking tour of the spectacular city of Rome, Italy. Rossella (my Italian wife) helps to give us an insider perspective on this breathtaking city!
We spend a very full day walking around Rome and seeing many of the city's sights. This is a stunning city!
Watch the [11 min] video below, or the rest of this post won't make sense!
If you'd prefer to watch the video on YouTube, here is a direct link: ROME IN A DAY – a walking tour of Rome with a difference!
Rossella and I have been to Rome several times over the years. We exhibited boats at the Rome boat show during our time as boat dealers… However, we have never had the time to see the city properly as tourists, so this was something on our to-do list. We had a few days available, so we went online and found a great deal on some accommodation.
We were driving, so we wanted somewhere we could park our car for the duration of our trip. Rome is not an easy place to find parking spaces, and Roman drivers seem to drive as though they are desperately searching for cover in a golf-ball sized hailstorm. I don't know many tourists who would find driving in Rome relaxing!
The accommodation we found had the following characteristics:
It was really cheap (I mean, really, REALLY cheap!)
It had free parking
It was 5-10 minutes walk to Rome Aurelia train station, which has frequent trains to and from central Rome (10 mins train ride)
Breakfast was included (We eat as much as we possibly can at breakfast to 'get our money's worth' – then we have loads of energy to last us through the day…)
There was free use of the swimming pools, sauna, steam room, jacuzzi and gymnasium [Ha! As if we'd be going to the gym…] Walking around a city is fabulous, but if you are walking around a lot, having facilities like this can be a godsend, so that you can give your body a well earned rest.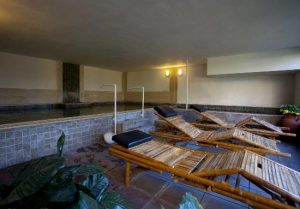 We chose to stay in a small 'bungalow'. It was very small, but we really didn't care! We got a great deal and we planned to spend all our time in Rome, the accommodation was just where we would sleep. If we did spend any extra time at the resort, it could be spent in the spa facilities.
Do you want to know how we found such a good deal? It's really easy once you know how! Rossella and I travel a lot, and over the years we have become very good at saving money whilst travelling. This technique works for all travellers. Do you want to know how you can stay in a Five Star Hotel, for the price of a Four Star hotel? Or do you want to travel as cheaply as possible? Either way – check out my post 8 insider secrets I use to get bargain travel deals to see how.
The map of our walking tour around Rome
Below you can see a map of the route we took. We walked from the accommodation to Rome Aurelia train station. Then we got the train to Trastevere station. We then walked across the River Tiber to: The Mouth of Truth; Circus Maximus; Palatine Hill; The Colosseum; The Altar of the Fatherland; The Pantheon; The Church of St Ignatius; and The Spanish Steps, before leisurely making our way back home.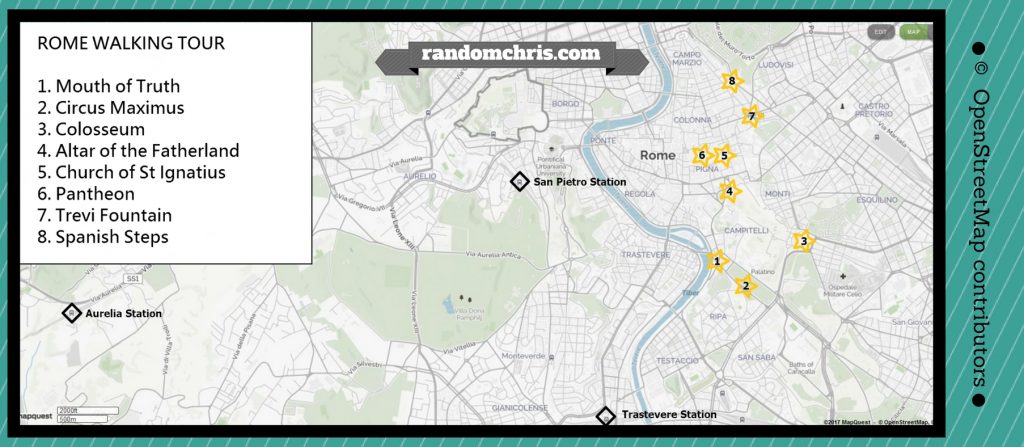 I've retraced our steps online and it turns out we walked over 10 miles on this one day (no wonder we were tired!) I wanted to squeeze in as much as possible during the day that we made the video, and we did see a lot in this one action-packed day.
Rome wasn't built in a day: You can't see it in a day either!
As I said in the video, you could easily spend a week visiting the main attractions in Rome and you would have still only scratched the surface of this incredible city.
During our whistle-stop one day tour, we avoided waiting in line by not going in to the attractions where tickets are necessary. You could easily spend two days visiting just the Colosseum, Palatine Hill and Roman Forum. One combined ticket gets you in to all three of these attractions – but you will still have to spend time queuing to get in. If you don't have time to waste and want to see as much as possible as Rome, then you can save time, as well as money, by only visiting attractions which are free to get in.
What was your favourite sight in Rome?
This is not an easy question to answer… These are my three favourites, in alphabetical order!
1. The Colosseum. There are very few people in Western civilisation who would not immediately recognise the Colosseum, and know that it is located in Rome. What other landmark can you say that about?
We didn't go inside this ancient amphitheatre because our schedule couldn't justify that. However, seeing this building from outside, as well as the ruins in it's vicinity, takes you back to another era. The hands, and minds, which built this were at the forefront of technology in their day. We are fortunate that their creation can still humble us with it's inimitable physical presence.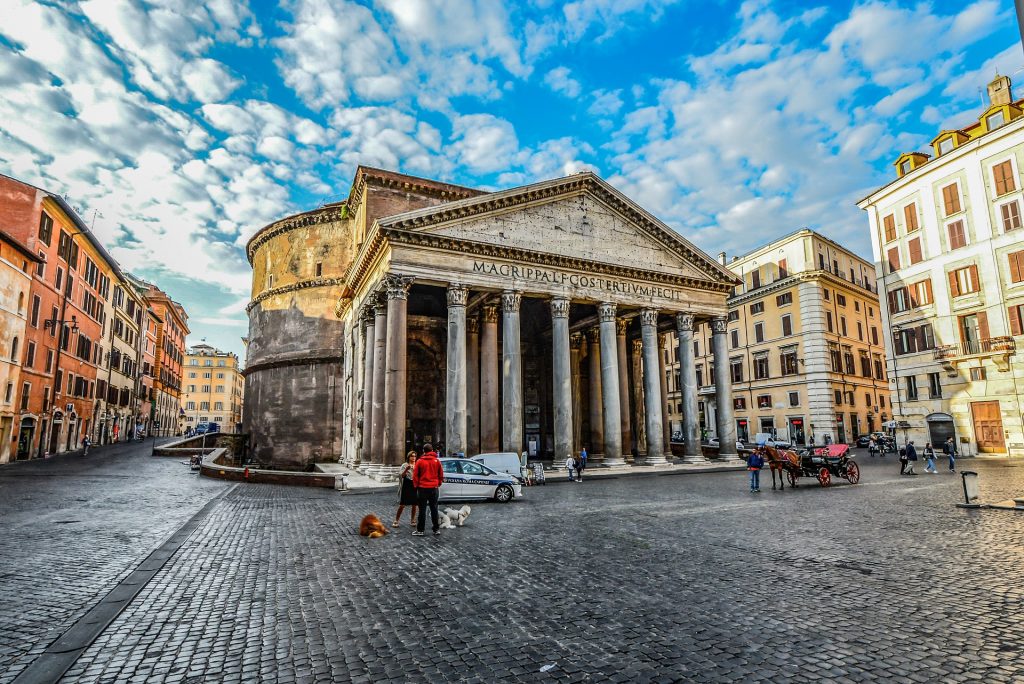 2. The Pantheon. The granite pillars got my attention before I had even walked through the door. Each column is 40 feet tall by 5 feet wide, and weighs 60 tons.
These were quarried in
Egypt
before being dragged across the desert to the river Nile. During the spring floods, the water level was high enough for them to be transported downstream to the Mediterranean Sea. Here they were loaded onto ships to make the long journey to Rome. Then there is the 4500 ton concrete dome, which is the largest un-reinforced concrete dome in the world… Seeing these things in real life means you can literally touch the history and the Pantheon is truly an amazing building.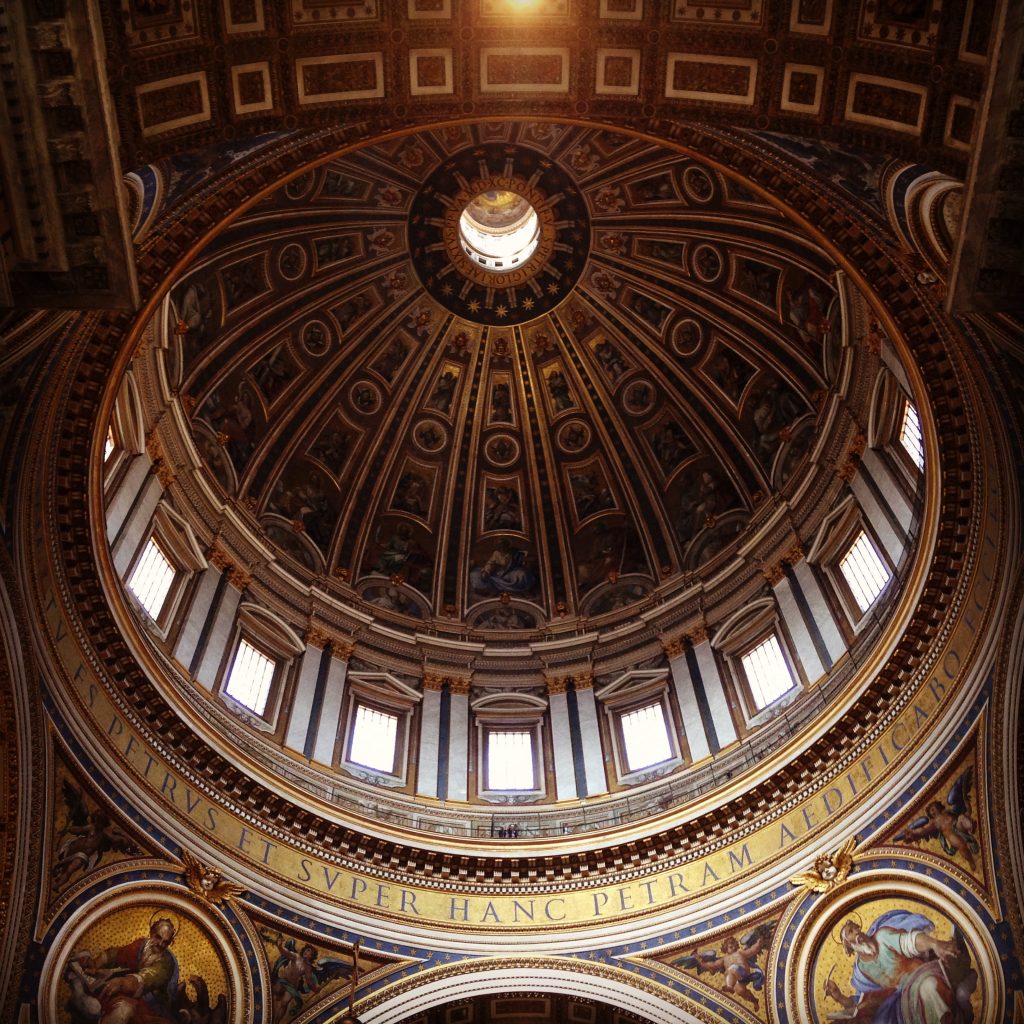 3. St Peter's Basilica. We saw St Peter's Basilica on our final day in Rome (it's not in the video above, as we visited the following day). The scale of this place has to be seen to be believed. It was a beautiful sunny day and when we arrived inside there was a Mass being held, giving this gigantic church a very special atmosphere. With the sunbeams shining down from above, and the sound of the choir filling the air, it really did feel like the historic centre of Christianity.
The quality of the workmanship in everything which adorns this space is mind blowing. There is so much to look at that at times it's hard to keep your mouth closed as you wander around, lost in a sea of beauty. I can't really articulate just how stunning this church is – at some point in your life, you must go and see it!
The bottom line: Rome is one of the most breathtakingly stunning cities on Earth!
Rome is one of the few places in the world that has managed to 'get under my skin'. I'm lucky enough to have visited 40+ countries so far. Often, once I've seen somewhere, even if I loved it, it will go on the 'done' list and I don't know if I will ever go back. Rome is not like that: I know that one day I will go back and I can't wait to see it again!
Do you want to know how to save money when booking accommodation? Or how to book the cheapest flights possible? I am really good at this so have a look at my other post, where I tell you my insider tricks to save money when travelling: save money when booking flights and accommodation.
What is your favourite sight in Rome? Do you have any special tips about the eternal city to share with others?
Please leave your comments below.
Cheers! Chris 👍