Yes, you heard us right – our boat is for sale!!!
I can't believe I'm saying this! Our beautiful, cosy, perfectly formed, floating home, of which we have so many priceless memories, will soon belong to someone else. 😢
There is a good reason for this: Rossella is pregnant and, after the baby is born, we plan to spend 1/3 of each year living aboard our boat as a family. [We also have a passage of over 1000 NM planned for 2018, with our tiny baby girl on board…] With the above in mind, I started looking at the used boat market and managed to find us a bigger boat at a bargain price. This bigger boat needs work but I can do pretty much all of this myself and we will be making videos about the whole process…
After a crazy few months the bigger boat is now ours and, as a result, we have to let our perfect first boat go and take some other lucky family on their adventures. It will be a sad day for us when we hand her over, but knowing that she will bring so much joy into someone else's life will at least be some consolation for us.
What kind of boat is she?
Here are the main boat details:
Make and model: Plastilupi Half Cast 30, Built 1989
LOA: 9.00 m (30 ft)
LWL: 7.80 m (26 ft)
Beam: 3.06 m (10 ft)
Draft: 1.70 m (5 ft 7 inches)
Maximum passengers: 8 (sleeps 6)
Displacement: 3000 kg (6600 lbs)
Ballast: 1400 kg (3086 lbs)
Ballast ratio: 46%
Sail area: 50 m2 (538 sq ft)
Sails: Mainsail plus Genoa 150%
Keel type: Integral (Encapsulated, lead filled)
Rudder type: Balanced spade rudder with solid stainless steel shaft and tiller steering
Engine: Volvo Penta 2002 (2 cylinder, naturally aspirated diesel engine, raw water cooled)
Drive: Volvo Saildrive with 3 blade propellor
Mast: Deck Stepped
Fresh water: 120 litre flexible tank under the V berth
Fuel: 50 litres, stainless steel tank, aft of engine
Electronics: Autohelm 200 tiller pilot (autopilot), Raymarine ST40 speed (Shows current, maximum and average boat speed, log, trip and sea temperature), Raymarine ST40 Depth, COBRA DSC fixed VHF radio, Midland Atlantic portable VHF radio.
Miscellaneous: Bower anchor – Bruce anchor with stainless steel swivel and 50m of 6mm galvanised steel chain. Kedge anchors – 2 x Danforth anchors [approx 20 kg and 10 kg] with one 10 m length of 6 mm chain and 60 metres of Nylon three strand rode. 700 W anchor windlass with separate chain and rope gypsies and wired remote control system. Shore power system with RCCB, circuit breakers and galvanic isolator. 1 x start battery and 2 x house batteries (100 Ah), with 'battery separator' dual charging system. Intelligent battery charger. 2 x 100 Watt solar panels with MPPT charger and remote display. 12 volt fridge with small 'freezer compartment' within cold heat exchanger. Hot and cold pressurised water system with 12 volt pump, boiler and accumulator [supplying pull out showers in head and cockpit and galley faucet]. 2000 Watt (peak) 12 Volt DC to 240 Volt AC inverter.  Stereo system with CD player, USB input and 2 external speakers. 4 x lifejackets. Propane stove with 2 burners (and external propane tank). 6 x Fenders. Mooring lines and a selection of various on spare lines on board.
"The Plastilupi Half Cast 30 was designed by Davide Castiglioni for the Half Ton Cup of Trieste. They therefore have the great sailing performance of a 'half tonner', combined with a cleverly maximised, comfortable interior to suit the needs of a small cruising family.The boat was produced commercially by Giuseppe Loggia, who fell in love with the design and left his job in the marine services industry to produce the Half Cast 30 commercially. It was produced and sold in Italy.

The Half Cast 30 is a medium displacement fibreglass constructed boat with an encapsulated keel (after being laid up as an integral part of the hull, it was then filled with lead). This makes for a solid hull and eliminates the need for keel bolts."
The best way for you to see our boat is to watch our full boat tour video:
What can you do with a [relatively small] sailboat like that?
Our boat is a perfectly optimised 30 foot masthead sloop. Since we bought her we have carried out many upgrades to make her capable of long distance cruising. We have lived on board for several weeks at a time, including taking her on our honeymoon to Corsica, where we spent 23 consecutive nights at anchor. She has been a wonderful boat for us and we are sure that she has decades more adventures ahead of her.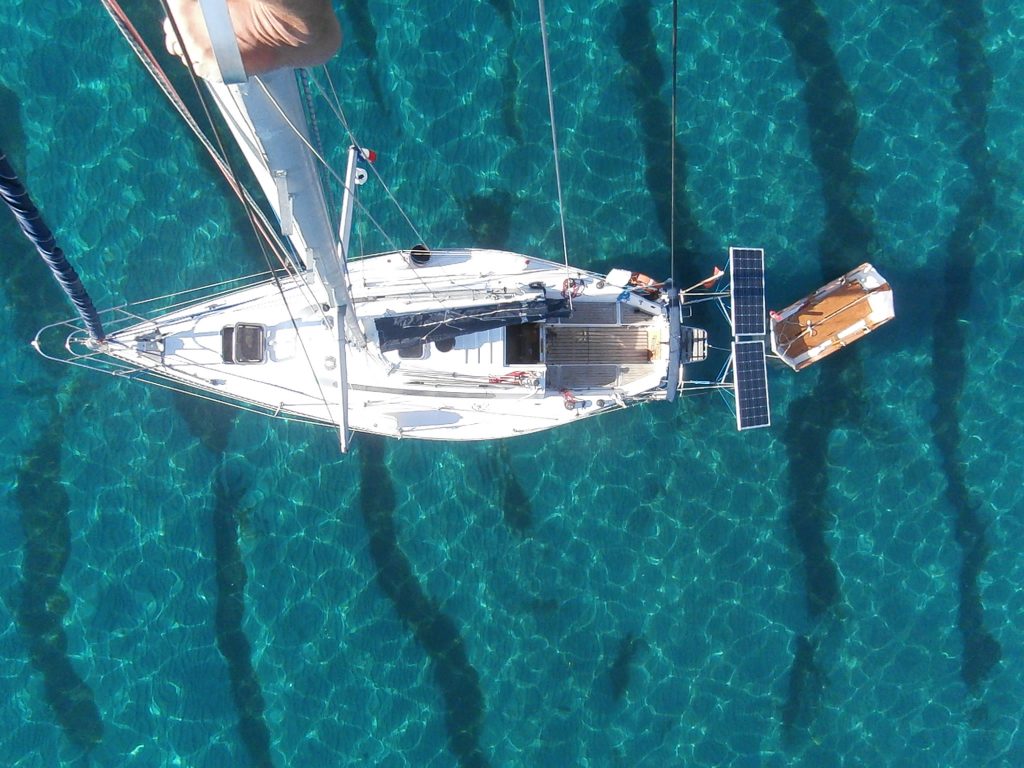 One example of the work that we have done is the solar panels and custom stainless steel mounts we fitted to the boat. I spent literally days measuring and designing the mounts to optimise the two 100 Watt solar panels, without them interfering with the use of the boat in any way – before even beginning to start making the mounts. [If you were to pay someone to do this you would have to have a very fat wallet!] The panels can be rotated 360 degrees and tilted so that they can be perpendicular to the sun – massively increasing their output when the sun is low in the sky.
We fitted an MPPT charge controller and remote display so that we can squeeze as much power as possible from the panels. Even with our relatively small battery bank (1 x 100A engine start battery and 2 x 100A house batteries) the solar panels produce all our power requirements when we are living at anchor for extended periods. We run our fridge all day long (we turn it off at night but with a couple of bottles of water in their to act as 'cold stores', the fridge stays cool until the following day, even during the hottest summer weather); use our LED navigation and interior lights as much as we want; and Rossella can even use a standard household hairdryer to dry her hair, on a low setting, via our inverter!
If you want to know all about the solar panels and custom sun-tracking mounts, you can watch this video: How to fit big solar panels on a small boat.
This is one example of what we have done to improve our boat since we have owned her. There have been many more improvements but I won't bore you by listing them all here! I know this boat like the back of my hand and I will give the new owners a very thorough handover – pulling no punches and being 100% honest about the things that would be on my 'to do list' if we were keeping her.
Do you have photos of the boat, inside and out?
Err, that's a yes!…
I know what I am like when I find a boat I want to consider buying: I study the photographs for hours on end. They say a picture paints a thousand words: well, in that case, here are a further 108000 words(!) so that you can see all of the details of the boat:
Tell us how much it would cost to buy your boat!
Now then, what would a beautiful boat like this cost to buy? We're selling her in GBP, and the price is just £15000. We know we will sell her at this price and as a result the price is non-negotiable.
The boat is in an absolutely stunning part of Italy, in a small, family owned marina that we found – in part due to our local knowledge Rossella is Italian) and in part due to a large dose of good fortune! This is the perfect place to keep a boat and it has been like a second home to us over the past few years. Even if you have never sailed before, you could buy our boat and use it straight away as a holiday home in Italy, and you can learn to sail at a nice leisurely pace whilst having some fabulous holidays in the Italian Riviera. Porto Venere and the Cinque Terre are literally just around the corner – google them and you'll see what we mean when we say how beautiful this region is!
The boat can be kept where she is now and the berthing fees are very reasonable for the area. Having the boat berthed where she is now puts you in a fantastic position; some of the marina's just a few miles away cost more than twice as much as what we pay! (Don't get me wrong: where we keep the boat is not cheap, it is just the very best possible place to keep a boat in what is a stunning part of the world.)
We have made a video showing you Le Grazie – the small town where the boat is currently moored. If you want to know why this is the perfect place to keep a boat, watch the video below.
I want to buy your boat, what should I do?!
We believe the fairest way to sell a boat is to do so on a first-come-first-served basis. Over 40000 people have watched our boat tour and any one of these people might like to buy her… If you want to buy our boat then contact us ASAP and we will explain how you can do this.
We look forward to (even if part of us is also dreading!) hearing from you soon. You can use the form on our Contact page to do this. Don't forget, we're selling the boat on a first-come-first-served basis so be quick to avoid disappointment.
If you know someone who is looking to buy a boat, share this post with them! 🙂
Cheers and fair winds!
Chris (& Rossella) 👍