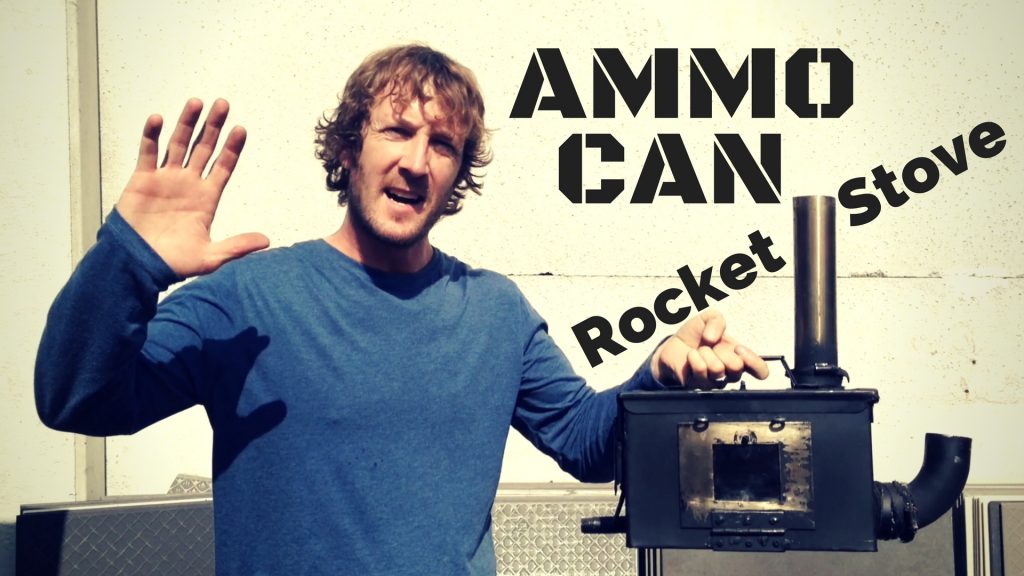 In this post I'll go into detail about my ammo can rocket stove. This is a small, inexpensive homemade wood stove which burns wood, without smoke, thanks to it's secondary burn system.
This all started as an experiment in small space heating. I was looking at ways to heat a 30 foot sailboat with a view to eventually using the stove to produce hot water for showers too. I had a look around for ideas and saw that some people were using ammo cans with which to make small wood burners. 'Perfect!', I thought: I was familiar with ammo boxes from my time in the Royal Air Force and I'd used them for many years as tool boxes. I was familiar with their size and structure and knew I could get them at a good price.
Whilst doing my research I came across rocket stoves, and I thought it would be nice if I could incorporate the some elements of rocket stove design in to my stove (such as being able to add fuel, without having to open a door, for example). I also saw videos about secondary burn and decided I wanted to incorporate that too! I set out making my first prototype to see what I could do.
As anticipated, the first prototype (Which I refer to as the Mk I) wasn't perfect. Some elements of the design worked really well, and others definitely needed changing.
I built the Mk I before I'd started my YouTube channel so there is no video for this early prototype. I found the photo of it below though: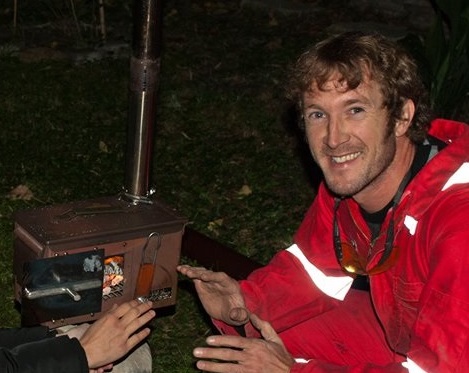 What you can't see in this photo is the copper secondary air intake pipe. Copper conducts heat extremely well and this secondary air intake worked brilliantly. I could see the secondary burn taking place if I closed the door and just left a tiny gap to look through.
I then built the Mk II stove and made a video which I uploaded to my YouTube channel. This stove was improved in many ways over the Mk I. However, the galvanised steel secondary air pipe does not conduct heat as well as the copper did. For the Mk III, which I intend to build soon, I'm pretty sure I will go back to using copper.
The Mk II is made from a 50 cal standard NATO ammo can (also designated as a 5.56 mm NATO ammo can) The dimensions are (L) 11″ x (W) 5 1/2″ x (H) 7″ = (L) 28 cm x (W) 14 cm x (H) 18 cm. You can buy these ammo cans on Ebay or Amazon, as well as from military surplus stores and illegal international arms dealers. I threw that last one in there just to check that you are paying attention… If you want to buy one (or a couple as they make fantastic portable tool kits too) you can buy them here: https://amzn.to/2BkRDLl
The stove has the following characteristics:
An insulated, double-skinned construction. I used a steel liner to make an internal box within the ammo can and filled the gaps between the two skins with rockwool insulation. This retains heat in the stove and creates the conditions necessary for a very hot and clean burn.
A stainless steel door, with a clear mica viewing window. The door is welded to the ammo can via a hinge and has two locking mechanisms. One is a rotary latch which quickly closes and keeps the door closed. The secondary locking mechanism really squeezes it closed. This is achieved by two eye bolts, each of which is actually the end of a turnbuckle. By rotating each eye bolt 1/4 turn (using a metal rod as the eye bolts are hot!) the door can be locked shut. The mica viewing window is loosely held in position within the door by a welded step underneath and two strips of steel bent round into a V shape. These lightly push against the mica to hold it in place, but at the same time allow for differential thermal expansion and contraction.
An internal baffle, which directs the flame and combustion gases from right to left when viewing the stove from the front. This prevents the smoke and gases from going straight up out of the flue and creates the conditions for secondary burn to take place.
A galvanised steel secondary air intake, which draws external air in to the stove, heats it and then releases it into the zone just below the baffle where the secondary burn takes place. This ignites the combustion gases and smoke a second time and these gases burn all the way back from left to right above the baffle, before being allowed to escape up the flue.
A large air / fuel intake on the right hand side of the stove acts as the primary air intake and also as a loading area for fuel. This can only be used once the stove is up to it's working temperature and a strong draw (updraft) is created – if you were to try to start the stove from cold through here, it wouldn't work because the smoke would not be drawn into the stove, (unless you were to preheat the flue in some way).
One small flue section is attached to the stove. The other flue sections are removable. Making the stove the way I did there is no need to seal the large diameter outer flue against the smaller diameter inner flue. Whilst the stove is in use the large diameter flue heats up and creates its own draw, which sucks in cooler air from below and directs it up and out of the top. The smoke from the smaller diameter section of the flue is therefore drawn up and out and I have never experienced any problems with smoke coming out of the open bottom end of the flue.
The bottom of the stove has a simple grate made of chicken wire. This raises the burning wood, allowing air flow underneath it to allow all-round combustion.
Now that I've described my Mk II ammo can rocket stove, lets have a look at it.
Below you can watch my YouTube video 'My ammo can stove. A homemade wood stove (rocket stove) with a secondary burn system.'
As you can see, this stove (once hot) burns wood without producing smoke. Smoke from any fire is indicative of an inefficient burn. If you see a wood burner burning without smoke, it means that the smoke that you would expect to see is instead being fully combusted within the stove. As well as being more efficient and reducing pollution, this also means that the stove is far less likely to have problems such as chimney fires, caused by creosote and other residual deposits, which are created by the conditions inside colder running stoves.
I've had a lot of interest in my Mk II Ammo Can Stove and a lot of comments on YouTube asking me to make the build video I talked about. I will definitely be doing this and I plan to make the Mk III version:
Easy to build with simple tools (no welding required)
Cheap to build
Made using commonly available parts
I have a lot of work ahead of me but I hope I can do a good job with my Mk III stove. I had the following comment from a YouTube viewer:

'Diamond Draco' wants me to make the build video to help them out and that is certainly a reason for me to get my skates on! As a result of this comment I have decided to make an interim video, explaining exactly how I made the Mk II. This will help people who are in a rush to get their stoves built to do so whilst I'm still working on the Mk III video.
*Update December 2016: Build video now live, see this post
Please leave your comments below.
If you enjoyed this post, share it on social media to help me support my family.
Cheers! Chris 👍