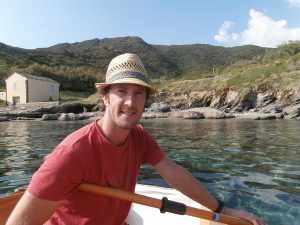 Hi! I'm Christopher Barr, a thirty-something British bloke with a ton of passions which at first glance seem to be unrelated. Dig deeper and each of my interests have a back-story which combine to make me the person I am today. If you are in a situation right now where you absolutely must avoid eye contact or conversation (your mother-in-law's house, the doctor's waiting room, a busy tube train…) you can read what pretty much amounts to my life story below. Otherwise, please feel free to skim the top of this page then get on with the rest of your day.
RandomChris.com is where I aim to share my interests with the world. The kind of subjects you can expect to find here include:
Sailing. Rossella (my Italian wife) and I have a small sailing boat. We went on our honeymoon on it. Before we left I made a tiny folding boat and this was our only means of getting ashore for the 23 consecutive nights we were anchored. We didn't have an outboard engine for our little tender so had to row everywhere (when the wind was blowing 43 knots we went nowhere!) That was my biggest sailing trip to date but I hope to do many more such trips in the future. Regardless of that, thanks to my love of sailing and my offshore job, I already spend more than half of each year afloat.
DIY I would describe myself as a very practical guy. From when I was a kid I have always been a tinkerer, dismantling things to find out how they work. My Dad was always fixing an outboard engine or a motorbike and encouraged me to help [hinder?!] him from an early age. I'm also what people from my home county of Lancashire would describe as 'a right stingy git' which roughly translates as 'One who is not overly fond of spending too much of one's hard earned money is any given situation'. No doubt there are many similar colloquial terms around the world… In short, I don't like to pay other people to do things that I know I can do myself. I have been like this for years, and as a result have ended up doing all kinds of jobs myself. Add to this the fact that I have maintained aircraft and underwater robots for the last 20ish years I like to think I've learnt something as a result. I will share my future DIY endeavours here to encourage and hopefully inspire others to get stuck in to some random DIY jobs.
Adventure. My parents sewed the seeds for me to be an adventurous soul. My fondest memories as a kid are of being immersed in nature doing something really simple but immensely empowering – climbing a tree or rock face, disappearing for hours and having the freedom to do this without having to report my every move to an adult… Some of the most enjoyable times of my adult life have occurred doing something adventurous like going hiking on my own deep in the Canadian Rockies when I was 19 years old, climbing up a snow covered mountain in Greenland wearing a pair of utterly inadequate trainers, sleeping in a self-dug snow hole 300 miles North of the Arctic Circle in a temperature of -26° Celcius, sailing at night for the first time ever on an 80 mile open water passage from Italy to Corsica… I seem to thrive on the feeling of being ALIVE that situations like this provide.
Travelling. I love travelling and truly believe that it is one of the best ways to learn about your own country and culture. Travelling is like zooming out to see the bigger picture, you can only accurately assess your birthplace by comparing it to somewhere else on Earth, where things are done in a completely different way.  So far I've been lucky enough to travel to more than 40 countries. In recent years I have spent quite a lot of time in Italy and I now speak Italian with what I am told is a relatively non-hilarious accent. If you want to know how I save tons of money whenever I travel check out my article '8 insider secrets I us to get bargain travel deals'.
Financial Freedom. I aim to retire young. I am also fiercely independent. In the modern world I believe it is too risky to rely on someone else for your future income (like the government or a pension provider). I plan to secure my own financial freedom. I aim to do this by creating a passive income which can exceed the expenses of living a relatively modest life. (I'm not a Ferrari kind of guy – I'd rather drive a second-hand car, work less, and spend more time with my family…) My plan is to create this passive income whilst finding a way to 'build a pipeline', rather than by 'carrying buckets'. I will share how I'm doing this so that others can have the chance to join me in creating passive income. If this all seems a bit abstract to you, come back here often and I hope I can enlighten you, just as my friend Aidan did when he lent me the book, Rich Dad, Poor Dad, a number of years back.
Randomness. The most exciting thing about RandomChris.com is that it is a space for me to do anything I fancy, without limiting myself to any small section of my interests. As a result you will find content relating to the most obscure of subjects such as: Building a boat, creating a website, building a teardrop trailer, building a wood burner, my take on how you can excel in an interview, interesting science experiments for kids… I have so many ideas for things that I literally will never be able to cover them all. I hope that the fact you will never know what to expect from me next will become a kind of trademark of RandomChris.com. 🙂
That's not all I'm in to, but no doubt you are slowly starting to lose the will to live reading this ridiculously long about page. So that'll do for now.
No? You want more?!
So you want to know some of the back story I alluded to above? Ok, here goes…
The short version:
Born and bred in a seaside town in the North of England. (My parents were from Northern Ireland but had to elope to England to get married during 'the troubles'…)
Joined Royal Air Force at 17 years old.
Worked as Mechanical Technician on jets and helicopters for 7.5 years (Travelled the world and had a fantastic time).
Met my beautiful Italian wife Rossella. Left the Royal Air Force so that we could be together.
Started working offshore with ROV's (remote controlled underwater robots)
Became a boat dealer.
Realised being a boat dealer was going to consume every hour of every day of my life for the foreseeable future… Returned to working offshore!
After helping lots of other people become boat owners, finally managed to become one too by finding a bargain 30 foot sailing boat.
Married Rossella. Sailed off to Corsica together and spent 23 nights at anchor on our boat. Heaven!
Started my YouTube channel 'Random Chris' in 2016.
Why 'Random Chris'?
I have a huge amount of interests. If I could clone myself 9 times, each one of us / me / I (what is the grammatically correct way of talking about the plural of oneself?!) could easily fill their entire lifetime with the different passions I have. My vision with RandomChris.com is to share these passions with people in an unpredictable way.
One week I may be climbing a mountain, the next building a small boat, the next building a website, travelling to a far flung part of the world, making a rocket stove, sharing a cool science experiment you can use to educate kids in a fun way… I think you get the point. In short, with 'Random Chris', you should expect the unexpected.
Variety is the spice of life
The loooooooong version:
Still struggling with your insomnia? Ok, here's the long version:
I was born and bred in a seaside town called Blackpool, in the North West of England. I was blessed with a fantastic family and had an extremely happy childhood. The great outdoors was my favourite classroom and my parents were, by far, my favourite teachers. I wasn't particularly ambitious at school. [This is an understatement, a more realistic assessment would be that I didn't give a monkey's!] One teacher alluded to my relaxed disposition on a school report by writing that 'Christopher will never die of a heart attack' I took that as a compliment.
The sarcasm on my school reports wasn't all one way traffic: When I was 12, my German teacher wrote the following on my school report:
My reply was as honest as it was cheeky! *Langweilig = Boring. The beautiful irony of this was that I managed to misspell the only German word in the sentence!
The only civilian job that I read about and fancied when I was at school was 'ROV Pilot Technician'. This must have stayed in the back of my mind because this was the very job that I would end up doing later in life…
When I was 17 years old I left college and joined the Royal Air Force, where it was possible to receive a great education, travel the world and participate in a wide variety of adventurous training, whilst at the same time getting paid (the alternative was to continue studying subjects which bored me at college and then progress to university where I would have got myself into a whole load of debt. In retrospect, I think I made an excellent choice!)
I spent two years in full time education at the Defence College of Aeronautical Engineering, learning about the theoretical and practical aspects of aeronautical engineering. The quality of the training I received was incredible and I have never seen anything come close to it in my time in the commercial world.
I then worked as a Mechanical Technician, maintaining fast jets and helicopters. I loved my job. The highlights of my career were working on Chinook helicopters and the well known 'Red Arrows' display team.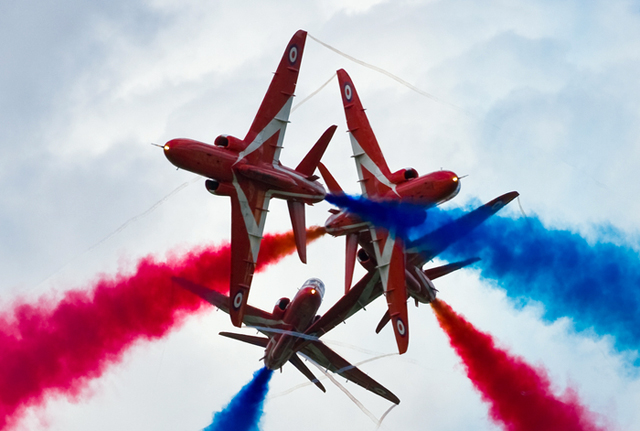 As well as travelling around with my 'day job' maintaining aircraft, I took full advantage of the extra-curricular activities on offer. During my time in the forces I was able to do the following:
Played Rugby in: Jesolo, Italy (10 day tour – we played 2 games…); Washington DC, USA (11 day tour, we played 2 games); Akrotiri, Cyprus (we stayed there for a week and I vividly remember lying on a sunlounger, listening to the sound of 'Moby: Porcelain' from the adjacent bar in one ear and the sound of the waves riding up the sandy beach in the other ear… I thought to myself 'I'm getting paid for this!')
Went on a 7 day hang-gliding course where I learnt to fly solo in the Welsh mountains.
Went trekking in the Himalayas for 6 weeks. (We had to make a personal contribution to the cost of this one. I paid around £350 to participate, but was paid my normal wages for the entire time I was there…) We trekked to an altitude of 5000 metres and at our highest camp I decided not to stay in the tent like the other participants but instead to 'bivvy' in my sleeping bag under the stars.
Organised, planned and lead an expedition to Snowdonia, where we climbed mountains by day and frequented the local ale-houses to re-hydrate by night.
Went Alpine climbing with the RAF Mountaineering Association. Carried out crevasse rescue drills and then climbed 4000+ metre peaks with an excellent bunch of guys.
The above list isn't exhaustive and as you can see, I really did make the most of my time in the RAF. It wasn't all sport and hijinks of course. I travelled to some hostile places and experienced some 'interesting' working conditions at times. I travelled to approximately 30 countries during my time in the Royal Air Force and I will always have very fond memories of my time there.


Per Ardua ad Astra

Well, why did I leave if I loved it so much? Because I loved something else more…

A friend of mine had moved to a town near London and his other half had gone away for a week. Cue an invitation to the 'boys from Blackpool' to head down south for a weekend of 'cultural enrichment' in the vicinity of London.

The Friday night we visited St Albans. It can't have been a very interesting place as for some reason I seem to have no recollection of it!… Saturday night we went to London to gorge ourselves on the 'architectural and historical delights' of our capital city.

Coming from a seaside town in the North of England with the following three ever-present navigational aids:

1: Blackpool Tower – a slightly smaller, slightly younger, slightly less romantic version of the Eiffel tower.

2: A strong Westerly wind with drizzle.

3: The Irish Sea

…the boys from Blackpool struggled to navigate London's labyrinthine streets. At home, in order to navigate, one simply looks for the tower, feels which side of his face is wet and freezing or listens/looks for the sea. In this foreign land, there are towers everywhere, there is no discernible wind direction and the main body of water sneakily winds its way around the city, it's twists and turns disorientating our simple Northern brains. Anyway, long story short, we didn't get to see any of the landmarks. Perhaps unsurprisingly, we became rather dehydrated during our exploration of the city.

We asked where to go out drinking and were told:

Leicester square mate!

Leicester square it was then. A nightclub called Metra. It had probably never before been stage to such crazy Northern dance moves.

Whilst dancing like an idiot, I saw a really beautiful girl. I threw here a few of my ridiculous dance move faces whilst dancing with my mates and I'm sure there was some tiny inkling of a smile on her face. I knew she was out of my league but I've always loved a challenge so I thought up a strategy which was sure to work…

The thing is, beautiful girls get chatted up a lot. They get used to it. They've heard so many chat up lines that they have ready made responses to most of them. A guy who wants to win over a beautiful girl has to be different. This was the key to my strategy.

I kept dancing and chucking in the occasional cheeky smile Rossella's way. Then, when I felt the moment was right, I looked right at her and started walking towards her. (She was dancing with her friend Elena, with whom she had travelled from Italy) When I arrived between the two of them I looked into Rossella's eyes and said:

Excuse me?

I said it in a questioning manner, as though I was about to ask a deep philosophical question, thereby uncovering some kind of unfathomable secret in Rossella's soul. I paused for a second, and then completely transformed the meaning of my two words by gesturing for Rossella to move aside so that I could move past her and make my way through the crowd. I hoped this would be a massive disappointment and therefore leave Rossella wanting more. My aim was to be different. I wanted to use an approach no-one else would have ever used before. Well, it must have worked because later that night I went and spoke to her again and she took my phone number. Woohooo!

At the time I was based in Lincolnshire, 3.5 hours drive away from London. Rossella was only in the UK for three months before she moved back to Italy so I knew I had to work my magic on her quickly! I made it my mission in life to convince this beautiful Italian girl that it was possible for us to be together, despite our different backgrounds, cultures and home countries. This pretty much sums up those three months:

Rossella: "It can never work! We live in different countries!"

Me: "We can make it work! You'll see!"

Rossella moved back to Italy. I managed to convince her, despite all the odds, to officially become my girlfriend. I then began to fly out to Italy for one or two days at a time, whenever I could. The rest of the time we would spend about one hour per day on the phone. (Thank goodness for voip phone calls, otherwise I'd have had no money left for the flights!)

So, to answer the question 'Why did you leave the RAF?', the simple answer is: 'Rossella'.

After I'd submitted the paperwork to leave the RAF, I drove from Lincolnshire up to Scotland to a recruitment day being run by a company called Subsea 7. I recorded a list of facts and figures I had made notes on from the company website, and played them on repeat, as I made the long drive up North. After listening to a presentation from Subsea 7, each candidate had the opportunity to have an interview with one of the two recruiters there from the company. I wanted the job so much that, after my first interview, I went back into the waiting room again and waited until the very end so  that I could have a second interview with the other recruiter. Either my determination, or my parrot-like regurgitation of the facts and figures from the company website, must have caught one of them off-guard, as I got the job!

I then worked offshore for around 230 days per year. Rossella was at University so I ended up spending the majority of my time off in Italy and was really missing the UK. Naively, I thought:

If I start a business, I can work when I want, have time off when I want, and spend more time in the UK.

As anyone who has ever run a business will tell you, that's not quite how it works!… I then started a great adventure and became a boat dealer, importing boats from the USA into Italy. I dragged Rossella into it too and whilst she was writing her thesis for her degree, I was piling on the pressure by landing her a 40 -page owner's manual, full of nautical terms and jargon, which had to be translated into Italian ASAP. This was the thin end of what became a very wide wedge!

We exhibited one of the boats at the Rome boat show before I had even learnt to speak Italian. (I learnt a lot in that week I can tell you!)

By the second Rome boat show we had improved so much that we were featured on prime time news across the whole of Italy (for a whole 10 seconds!) Anyway, the business went well, we were selling plenty of boats and were making a good living from it but there was no chance of us having time off. On the contrary, we were so ridiculously busy we literally struggled to find the time to eat.

So, having run the business for just under 3 years but having gained about 15 years worth of life experience as a result, we sold up all our stock and I went back offshore as a freelancer – finally finding a way to be able to spend more time in the UK.

We dreamed of having a boat of our own for years (every time I was at sea offshore I was looking out at the horizon and dreaming of being out there with Rossella on our own boat). We eventually found ourselves a beautiful boat at a very good price and managed to realise our dream. We now spend as much time as we can on board.

After being together for 10 years, Rossella and I got married in this stunning church by the sea:

Saint Peter's Church, Porto Venere

We sailed right past the church at the start and the end of our honeymoon to Corsica. This was our our first ever proper sailing trip and we had a number of new experiences during our little adventure. Prior to us leaving for our 80 nautical mile crossing from Italy to Corsica, we had never sailed more than 10 nautical miles in one go. We had never had an overnight sail before. We had never sailed out of sight of land…

Before leaving, I had checked the state of the moon to have an idea of what kind of visibility we could expect. The night's moon would be 73% – perfect! However, I failed to check the moon rise time. We left at around 5pm (I wanted to arrive during daylight hours as we knew we'd be anchoring in a bay we'd never seen before). It went dark at around 9pm. 'It's all right, the moon will rise very soon' I thought… The moon didn't rise until 3am!

Despite all of the above, we had a successful crossing and then went on to spend amongst the best 3 weeks of my life cruising around Corsica on our own 'little private island'. One day the waves were so big that I used a hammock as a cargo net to secure Rossella, sausage-like, in the cockpit so that she could lie down without being thrown around. That was just one day though, the rest of the time we had a truly wonderful honeymoon.

So, here we are in the present day. I work offshore around 4 months per year. We have a cheap house in the UK and a cheap apartment in Italy. Rossella works online so that when my work permits me to have time off (Our entire life has to be organised around my very unpredictable job) we are free to spend time in the UK as well as Italy. I also have 8 months per year to pursue my passions, hence my videos and this website.

If you managed to make it all the way down here on this page I am utterly shocked! Get in touch and let me know your favourite part or if you think I need to cut some of this drivel out then let me know that too. Either way you'll be helping me better understand my readers.

Seeing as you made it this far down then you might as well sign up to my newsletter: It's all the way back up at the top of the page so think of it as a kind of zen-inducing yoga style workout to patiently work your way back up there. Enter your name and email address and 'Bob's your uncle', you'll be part of the crew! 😀

Cheers!

Chris