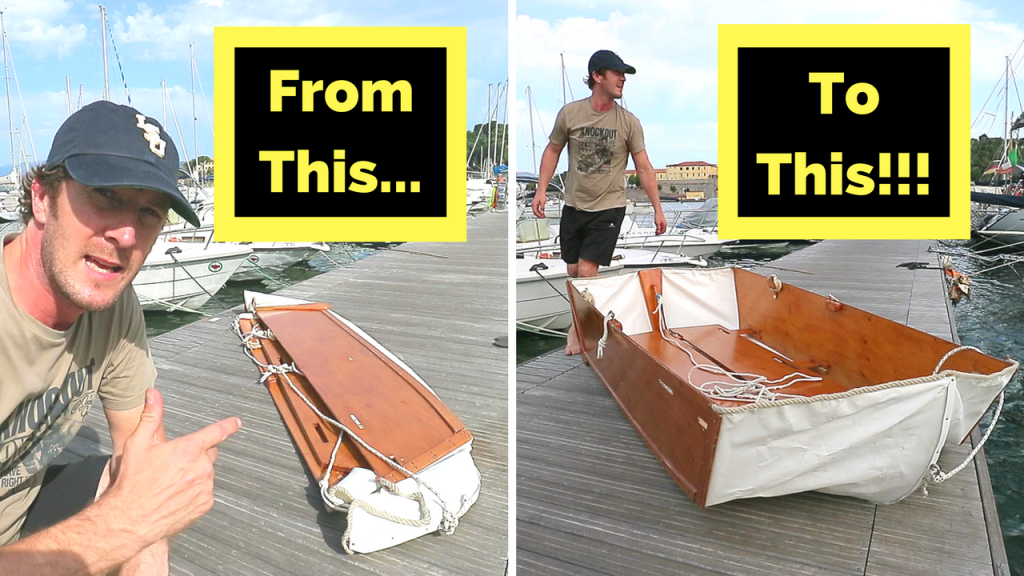 Building a boat is one of the most rewarding things you can do in life. You take some boring-looking bits of wood and, with your own two hands, you create something much greater than the sum of its parts. The satisfaction you get when you take it out on the water for the first time is indescribable.
However, boat building can be difficult for many reasons: Some boats require lots of experience to build, some require a large garage, some are so heavy you need lifting equipment before they are finished. Many boats cost a small fortune to build too…
These problems aren't an issue with the boat I chose to build
The plans are written with complete beginners in mind. As long as you can read English and work out how to use a jig-saw, you can build this boat. You don't need a lot of room to build it. You don't need lots of fancy tools, you don't need any experience – it really couldn't be any easier!
Why I chose this boat, and these boat plans
In our case we wanted a big tender which we could keep alongside the lifelines of our 30 ft sloop. This boat folds down to just 10 cm (4″) wide, so despite it being big enough to carry 4 adults (my wife's parents came ashore in it one day with us from an anchorage) it takes up very little room, even on a small-ish yacht. The fact that it can be rowed, plane with an outboard (Even the very old 4 hp engine we bought for 60 USD…), and can be sailed too sold this brilliant design to us. So I went ahead and built my very first boat!
The video below give you more details about what you can do with the finished boat, and how to build it.
We made a great call with this and our tender served us perfectly. When we sold our boat, the new owner fell in love with the tender, so we very reluctantly let her go (We owned a yacht in Italy and another one in the UK at the time – that is not a good position to be in, so we let the tender go to secure the sale.) I intend to build another one when I can as these boats are brilliant!
Tell me more…
Here are the specs for this folding boat:
Dimensions: Folded – 8′ (2.4m) Long – 18″ (45cm) Wide – 4″ (10cm) High.
Assembled: 8′ (2.4m) Long – 40″ (100cm) Wide – 16″ (40cm) High.
Weight: From about 20 kilos (42lbs)
Carrying capacity: Three adults or 220kilos (490lbs)
Max outboard size 3.3hp
Sail area: 3.5sq metres (35 sq feet)
Building this was honestly one of the most satisfying things I have ever done. As I think back to building it I can still smell that beautiful smell of pine as I planed the wood. I learnt lots of new and very useful skills, such as laminating wood and varnishing like a pro (I learnt how to varnish from the plans, however, I decided that "quick and easy" was good enough for this boat, rather than the mirror-finish I could have achieved if I wanted to follow all of the advice from the skilled shipwright who came up with this fantastic design.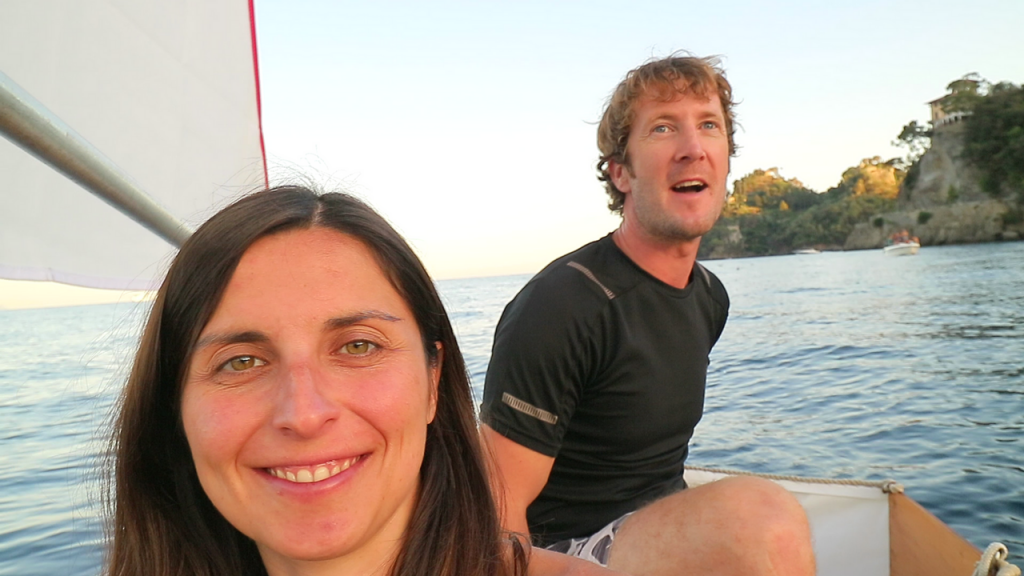 Imagine owning a boat you can keep in the gap between a wardrobe and a wall. Imagine owning a boat you can throw on a roof-rack. Imagine a boat you can take with you in a campervan. Now imagine you have already built your boat. Think about all those spectacular places you can go to, and what you'll do with your boat when you get there. Maybe you'll explore a little island. Maybe you'll go fishing. Maybe you'll take a sleeping bag and spend your first night camping on it in a little bay somewhere (Why not? Life is for living!) This is all easily achievable with this little boat – and you can easily build one for yourself.
Benjy, the designer and seller of the plans, is a very special man and since I bought his plans several years ago we have now become friends. His plans are written in such a way that it is virtually impossible to make a mistake – you just follow the step-by-step instructions, and before you know it, you have built yourself a boat!
You can buy the plans for this boat here ➜ http://bit.ly/benjy-website
I can't recommend them enough. Benjy will also plant 5 trees for every set of plans sold, so you can go ahead and buy the small amount of wood you will need to build your boat with a clear conscience. 🙂
Leave a comment if you build yourself one of these boats. If you do I'm sure you will agree that they are very special indeed.
Cheers! Chris 👍