In this post I will share with you the insider tricks I use to save money on flights and accommodation. So far I've been to over 40 countries but I want to see many more – without spending a fortune!

This means I have to find the best deals possible! I love saving money and over the years I have become very good at finding the best way of saving money on things like flights and accommodation, using the power of the internet.
Here are my insider secrets that you can use to save money the next time you travel. Each of my 8 tips is inside asterisks – like ***this***. [They are all simple when you know them but they will save you money!]
Where (and how) to book the cheapest flights
I fly a lot! Recently I flew over 50 times in one year. My wife is Italian, we live between two countries and we are often flying back and forth (I also get 'helicoptered' to and from work, which adds to the total).
With all this flying, I know how to save money on flights… Now I'm going to share this knowledge with you!
***Skyscanner***
This is my go-to website to find the cheapest flights. The key to using it is to be as flexible as possible. This allows the system to find you the cheapest flight options.
Let's look at a real-world example. I want to fly from the USA to London, UK. I want to leave in a couple of days (so I have time to pack) and I want to go for a week. Here is the flight search box on Skyscanner:

The From and To boxes ask for 'Country, City or Airport'. You need to be as flexible as possible to get the best deal.
Here we'll enter:
From: USA [***This will check flights from all US airports***]
To: London (Any) [***This checks for flights to any of the 6 different London airports***]
Depart: Required date [***Try slightly different dates to save even more money. Just one day difference can save you $$$!***]
Return: As above


Now we'll click Search Flights and wait for Skyscanner to find the cheapest options.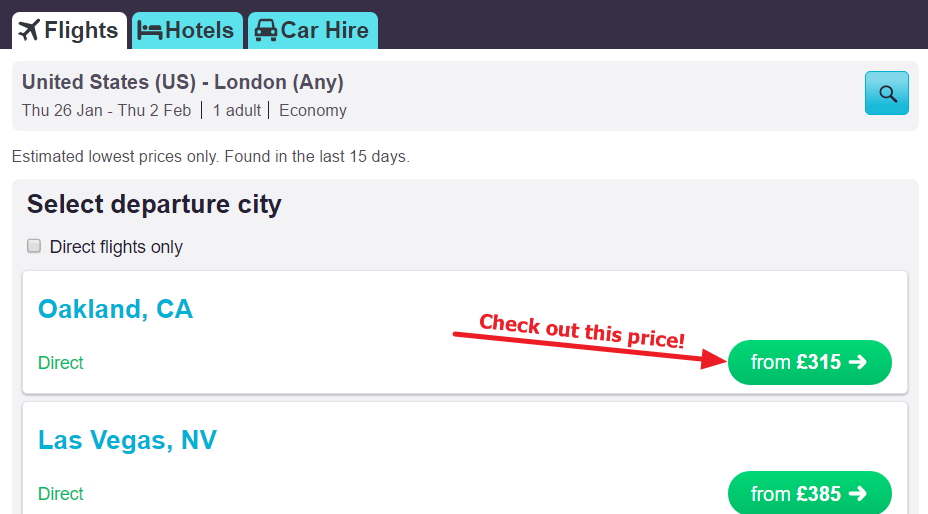 Here we will select the cheapest option and click on the button to get the latest price. We then see the following screen: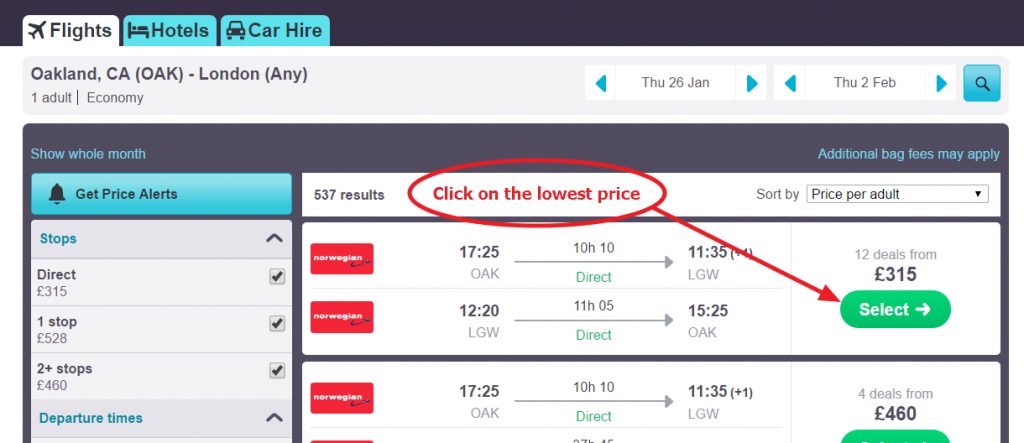 Now we click on Select, and we are taken to one final Skyscanner confirmation screen: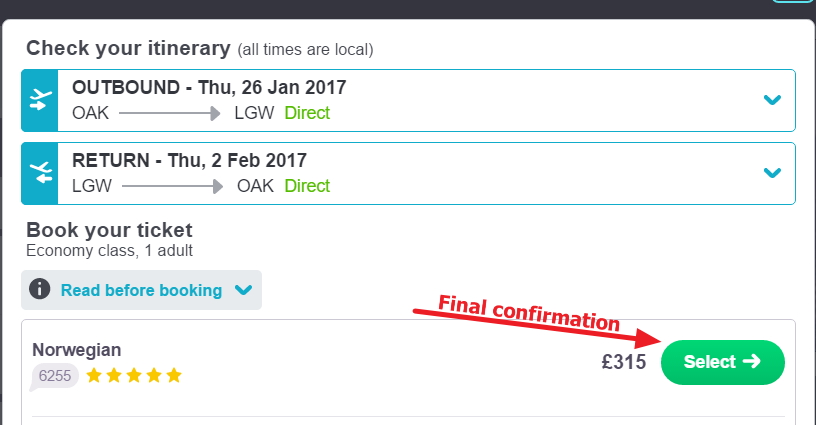 We then see a pop-up while all our selected information is transferred from Skyscanner to the Airline (you don't have to re-enter your trip details):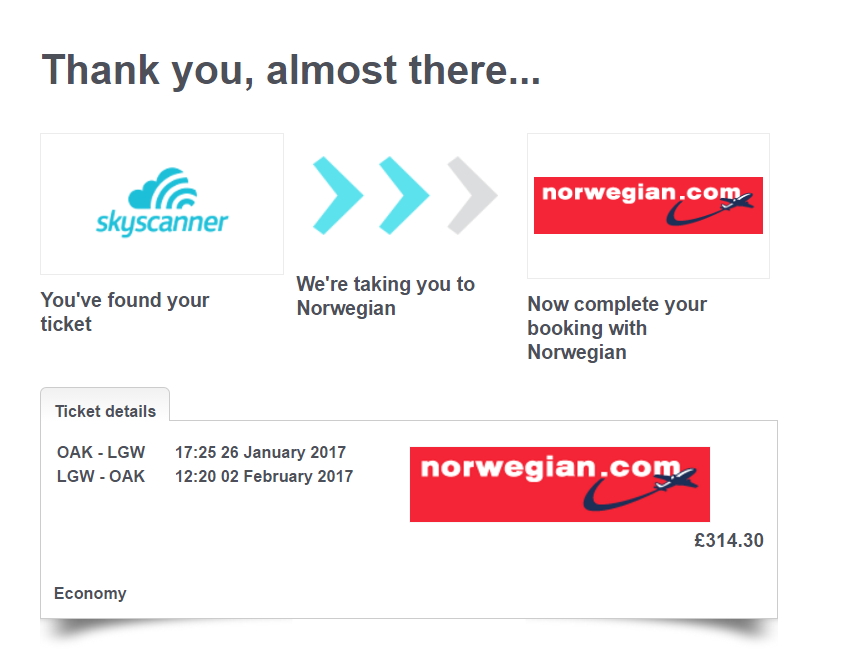 Then you book your flights directly with the airline itself. Here is a screenshot showing the final price for our return flight from San Francisco to London:

As you can see, in this real-world example, our return flight costs £314.30, which is US $392.33 (with today's exchange rate). Not bad for 2 x 5300 mile flights on board a Boeing 787 Dreamliner!
Just how cheap are those flights?!
$392.33 / 10600 mile total distance = $0.037 per mile. Less than four cents per mile!
If you count your food costs (i.e. extra calories required), flying for less than $0.04 per mile works out cheaper than travelling by bicycle!
So, now you know how to book ridiculously cheap flights. You're welcome. 🙂
Where to book the cheapest accommodation
Once you get to your dream destination, you will need somewhere to stay. Here's how I find the cheapest possible deals on accommodation. By the way, saving money doesn't mean you have to stay in a tent!…
If you want to stay in a 5-star hotel then please do – but – why should you pay more for your room than the people next door are paying for theirs?
Rossella and I recently went on a trip to Rome. You can see my post about it here: Rome tour blog post and video
We wanted to see the city as tourists, so we went for a few days. We were driving… and I would rather park on the edge of a cliff than have to search for a parking space in Rome!
To avoid the above trauma, we wanted some accommodation with parking facilities.
We found a great deal on a hotel with the following:
FREE Parking
FREE Spa facilities: Swimming pools (1 indoor, 1 outdoor with sun loungers); Sauna; Steam Room; Jacuzzi. This is just what you need after a day's sightseeing!
FREE Gym (Ha! As if we were going to use that… We could have used it though!)
FREE Breakfast (If you eat as much as you possibly can, you are running on free calories… :-D)
Do you know how much all this cost? Take a guess…
Now let's see how close you were:
All this was $101 US for both of us for 3 nights! That's less than $37 per night for the two of us.
Do you want to know how you can get deals like this too? It's 'easy peasy lemon squeezy':
The 4 websites I use to get the best accommodation deals
***Booking.com*** This is a great website for finding great deals on accommodation. This is where we found our accommodation for Rome. They have  a massive selection and you can cancel your booking without paying a penny! So you can book ahead to get a great deal but if something crops up and your plans change, you won't be out of pocket. Go to booking.com now!

***Yeego.com*** This little-known website can give you access to some incredible deals on hotels. You've probably never heard of this site but have a look now and see how great there prices are. Go to yeego.com now!
***Hostelworld.com*** Don't let the name put you off – this website is great for booking hostels, but they also offer some great deals on guest houses, apartments and other deals. Go to hostelworld.com now!
***Airbnb.com*** Ok, you've probably heard of Airbnb and if that is the case then this doesn't count as an insider tip. However, did you know as well as renting rooms and apartments via Airbnb, it is also possible to rent 'alternative accommodation' too? Next time you go away you could consider to stay on a 'Boat and Breakfast' or in a cool bus conversion. This is an insider tip as it can open up a whole new world of unique travel experiences. Go to airbnb.com now!
Do you have any special tips you use to save money? Do you have any thoughts on this post? Did you save some money because of it?
Let me know by leaving your comments below.
Cheers!
Chris 👍